P6 Science Sat, 01/08/2020 12:09am

STUCK ON HOMEWORK?
ASK FOR HELP FROM OUR KIASUPARENTS.COM COMMUNITY!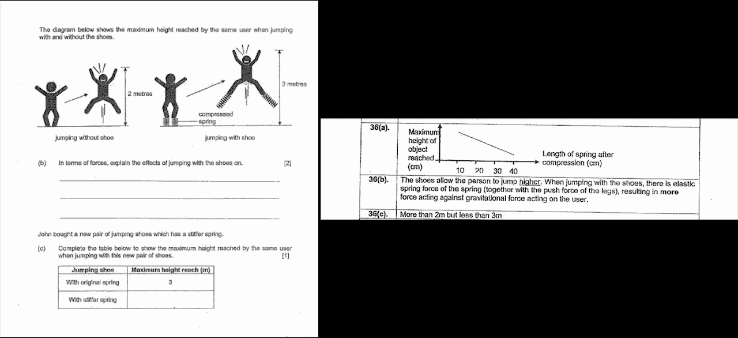 Hi, could anyone explain the answer for Q36(b)? Thanks in advance! Suma.
Adwin
Force is essential a push or a pull. In this context, we can think of most movement as a force being greater than the another and therefore one prevails over the other. For example, a coin can slide on the table because the force applied on it is greater than the frictional force resisting it for a period of time. Similarly, an object can jump or fly because a force was exerted that was greater than the gravitational force resisting that motion.
For this question, we know that when jumping, a force is applied to counteract gravitational force so that the body can be lifted into the air. By attaching the springs to the legs, an additional force is added to the force applied by the leg muscles – elastic spring force. These two forces work together to counter the force of gravity and therefore are able to propel the body higher into the air.
Find Tuition/Enrichment Centres