P6 Mathematics Mon, 17/08/2020 3:09pm

STUCK ON HOMEWORK?
ASK FOR HELP FROM OUR KIASUPARENTS.COM COMMUNITY!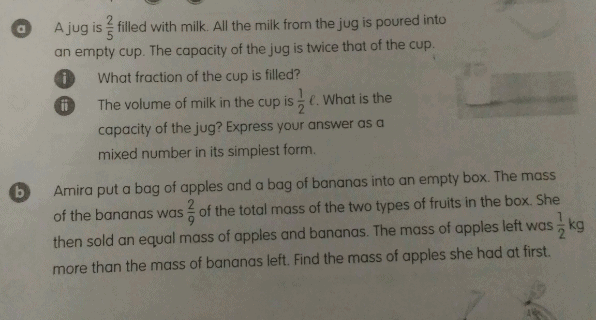 Please help me with question a and b. Thanks so much 
BigDevil
Question b
Total mass of fruits -> 9u
Mass of banana -> 2/9 × 9u = 2u
Mass of apples -> 9u – 2u = 7u
Since equal mass of apples and bananas were sold, the mass difference before and after were same.
7u – 2u = ½ kg
5u = ½ kg
1u = 1/10 kg
Mass of apples at first -> 7u = 7 × 1/10 = 7/10 kg
BigDevil
Question a
Capacity of jug -> 2u
Capacity of cup -> 1u
Volume of milk -> 2/5 × 2u = 4/5 u
(i) Fraction of cup filled -> 4/5
4/5 u = ½ litre
1u = ½ ÷ 4/5 = 5/8 litre
(ii) 2u = 2 × 5/8 = 10/8 = 1¼ litre
Find Tuition/Enrichment Centres