P6 Mathematics Mon, 02/08/2021 6:18pm

STUCK ON HOMEWORK?
ASK FOR HELP FROM OUR KIASUPARENTS.COM COMMUNITY!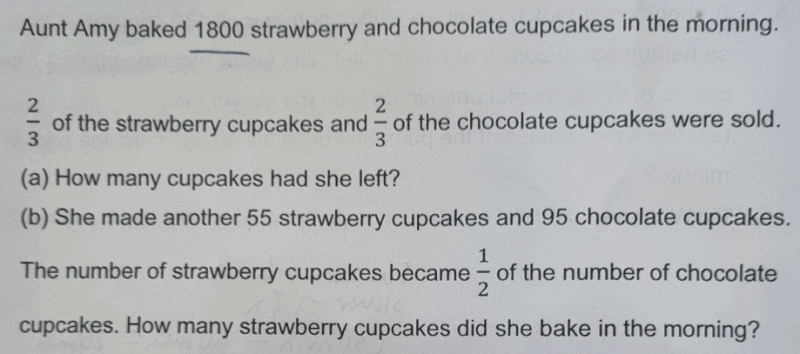 Ender
2/3 of Strawberry and 2/3 of Chocolate sold would also mean 2/3 of the total sold. Since 2/3 is the common factor.
So left over would be 1/3 of Strawberry and 1/3 of Chocolate, which again imply 1/3 of total since 1/3 is the common factor.
a) Cupcakes left = 1/3 X 1800 = 600 ###
b) She made another 55 strawberry and 95 chocolates, that is an additional 150 cupcakes. This brings your leftover cupakes to 750 cupcakes
If strawberry is now 1/2 of chocolate, that means strawberry is 1 unit and chocolate is 2 units, which mades 3 units for the total.
3 units =750
1 unit = 750/3 = 250 => strawberry
Now we trace back the strawberry to the morning.
before she baked the 55 strawberry = 250 – 55 = 195
195 is 1/3 of morning strawberry.
Therefore in the morning she bakes = 195 X 3 = 585 strawberry cupcakes. ####
Find Tuition/Enrichment Centres