Raz-Plus by Learning A-Z
Raz-Plus by Learning A-Z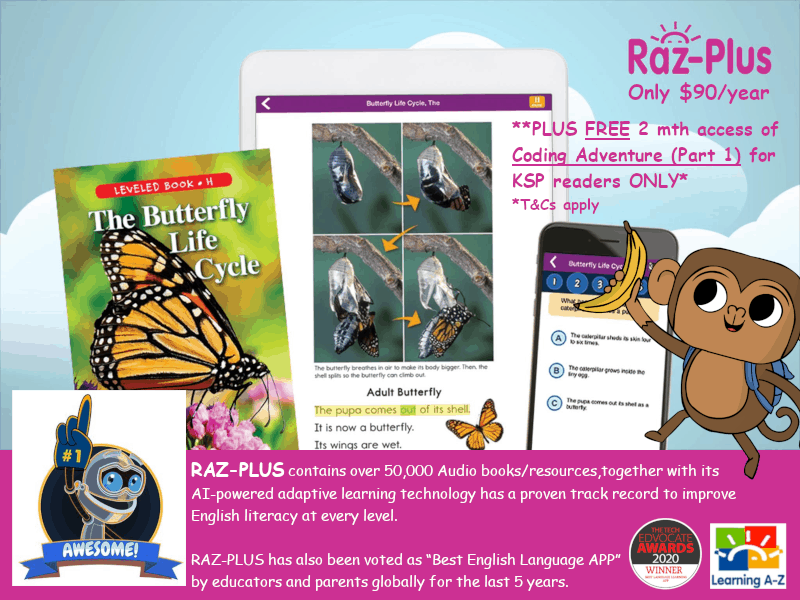 5-time Tech Edvocate Winner of "Best English language APP" for Pre-schoolers to Primary 6.
RAZ-PLUS contains over 50,000 Audio books/resources, together with its AI-powered adaptive learning technology has a proven track record to improve English literacy at every level. RAZ-PLUS has also been voted as "Best English Language APP" by educators and parents globally for the last 5 years.
More than 50,000 levelled audiobooks, comprehensive skills and strategies with lesson plans, activity sheets, and quizzes. Features include voice recording, audio playback, highlight and drawing tools, in-built dictionary.
Online and mobile access support independent practice after school. Children see personalized reading recommendations and can favourite books for easy access later. PLUS, they love earning fun badges and rewards for competing activities. Parental login is provided to allow parents the ability to participate in their child's learning and monitor progress at their discretion.
To enjoy free 2 months access of Coding Adventure (Part 1), you need to purchase Raz-Plus via this form. Promotion ends 15 June 2021.
Access code will be given after verification of payment via interbank transfer or PAYNOW.
Kiasuparents reserves the rights to amend terms of the promotion without notice. Please allow 7 to 10 days for processing.
Find Tuition/Enrichment Centres