British Council
Why choose British Council?
The British Council has over 65 years of experience teaching learners of all ages and backgrounds. We are a leading English education provider with an exceptional track record globally and in Singapore.
OUR TEACHERS
Our experienced and highly qualified teachers understand the needs of students and the challenges they face. They will assess your child's progress and adapt their teaching methods to suit their learning style.
 
As a key partner of the Ministry of Education, our courses are aligned with the MOE's current guidance on both Singaporean examinations and curriculums. Our examination preparation programmes address the challenges faced by today's students, including the new 2015 PSLE, 2013 O-level and A-level examinations.
 
HOW WE TEACH
We believe in teaching English as a life skill, to ensure your child becomes an independent learner.
 
Focusing on a student-centred, interactive teaching methodology, our teachers deliver stimulating, communicative lessons that motivate your child to achieve their full academic potential. By building confidence and nurturing creativity from a young age, your child will develop a strong foundation in the language.
 
In class, your child will take part in group work, pair work and discussions. Students are encouraged to share their opinions, develop critical analytic skills and gain practice with language skills aimed at furthering their progress in school.
 
Outside the classroom, learning continues through homework and through actively encouraging students to develop a passion for reading.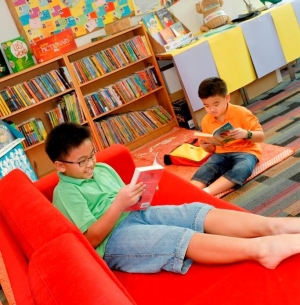 Our courses
British Council offers a wide variety of programmes catering to students from kindergarten all the way to adults. Click on the links below for details on course schedules and fees.
English for School
Other Courses
We offer interest-free instalments for POSB/DBS, UOB and Citibank credit card holders for selected courses.
Stay connected
Contact us
Find Tuition/Enrichment Centres