EnglishiExcel International
EnglishiExcel International
EnglishiExcel International is an online English learning forum for students aged between 9 and 18. We have designed specific programmes and modules based on the Singapore PSLE, 'O' Level English & 'A' Level GP syllabi, as well as the IB Diploma syllabus (Extended Essay & Theory of Knowledge), to enable Singapore students to excel at all English examinations. Additionally, through our up-to-date, interactive and integrated modules, we provide opportunities for students to develop strong personal attributes to succeed in the 21st century.
What we aim to develop at EnglishiExcel International are not only exam-smart students, but more importantly, individuals who, through interactive and learner-centred programmes, develop a life long interest in learning, and the self-confidence to pursue their individual dreams.
Our Founders: 
Dr Rosalind Tan Drake and Ms Hazel Lee Tan (B.A., M.Ed)
Expertise and Experience of Founding Directors
Built upon the combined expertise and experience of the Founding Directors, Ms Hazel Lee Tan (B.A; M.Ed), and Dr Rosalind Tan Drake, EnglishiExcel provides a unique opportunity for students to learn from the most creative and effective educators. The lesson plans are developed from more than thirty years' teaching experience. Hazel and Rosalind have taught at the following institutions: The National University of Singapore, National Institute of Education, Singapore, South-East Asian Ministers of Education Regional English Language Centre (SEAMEO RELC), Ngee Ann Polytechnic, University of Sydney, University of Technology, Sydney and the University of British Columbia, Vancouver, Canada.
Together, the Founding Directors have published 30 Creative Writing Guides, which have been promoted annually at the Singapore Book Fairs, and sold online since 2002. Teachers, parents and students have found these Guides to be most useful in developing their English Language proficiency in general, and scoring high distinctions in their English examinations, in particular.
Language learning takes place in a cultural and moral context. In learning a language, students are exposed to the values, attitudes and beliefs of the native speakers. Aware of cultural sensitivities and moral responsibility, the Founding Directors adopt a polite scholarship. This means we subscribe to the beauty and value of all cultures, and affirm the ability of all students to improve their lives through personal discipline and cultivation. We are interested in enabling all students to achieve the goals that they set for themselves on enrolment.
Dr Rosalind Tan Drake, Co-Founder
Dr Rosalind Tan Drake has a Ph.D from the University of New South Wales, a Master of Education from the University of Sydney, a Bachelor of Arts and a Bachelor of Social Sciences Honours degree from the University of Singapore.
As the Founder of Planet A-Star, an English language consultancy, Rosalind coaches foreign diplomats and top business executives to speak and write better English. Many doctorate and master's degree candidates have had Rosalind's editorial assistance in the submission of their dissertations.
In the last 25 years, Rosalind has authored 26 English Exam and Best Creative Writing Guides to enable students to excel in their English examinations. In Singapore, she conducts regular Critical Thinking, Creative Writing & Comprehension Workshops for students, as well as Nurturing Intelligence Workshops for Parents. Parents and students have benefitted immensely from her unique teaching methodology and nurturing spirit. The workshops and guides have enabled students to score their A*s in their PSLE, and A1s in their 'O' level English examination.
In Sydney, Rosalind specializes in preparing Primary school students to take the Admission Examinations to qualify for scholarships from private schools. Her students regularly take the top spots in the English school examinations. Several have secured scholarships worth more than A$150,000 from premier private schools such as Newington and Sydney Grammar School. Undergraduates from the Australian Pacific College, Sydney University and University of Technology, Sydney have increased their English proficiency under the tutelage of Rosalind.
Ms Hazel Lee Tan, Co-Founder
Hazel Lee Tan (B.A., M.Ed, GDMM, C.IM) has received extensive language training from universities from Singapore, Australia and Canada. She was awarded degrees in Bachelor of Arts (English) (National University of Singapore), and Masters of Education, (University of Sydney, Australia). Her professional development include attaining a Postgraduate Diploma in Marketing Management (Singapore) as well as a Certificate in Internet Marketing, (University of British Columbia, Canada).
In addition to having been well studied in English Language/Linguistics and Education in both her Bachelor and Master degrees , Hazel Tan has been awarded the highest level certification TESL Canada awards to its Canadian teachers – the Standard Three (Permanent) Professional Certificate.
Hazel Tan has had years of rich experience teaching language education in various well-reputed institutions like the SEAMEO Regional English Language Centre (Singapore) at which she taught foreign expatriates. While at the National Institute of Education (Singapore), and the National University of Singapore, Hazel was a Lecturer and Teacher Trainer and Supervisor of trainee teachers and undergraduates.
In Australia and Canada, Hazel has also taught university students from Sydney, New South Wales and the University of British Columbia, Vancouver (Canada).
For almost two decades now, Hazel Tan has helped many students to excel in their Primary School Leaving Examinations and Cambridge "O" & '"A" (Ordinary & Advanced) Levels Examinations in Singapore English examinations. Many of her graduands have gone on to university to become lawyers, doctors and business professionals.
Hazel has also been published in local Singaporean and international publications and participated in Writers' Festivals and Conferences in Vancouver, Canada.
Bringing together Hazel Tan's extensive education and international experience from having successfully completed a Distance Education and Technology (Development & Design) course from The University Of British Columbia, (Canada), EnglishiExcel is well-poised to help Bridge Youth to the World, a Home Advantage with Global Reach through Excellence in English.
OUR METHODOLOGY
In adopting the communicative, learner-centred teaching methodology, we undertake to do the following:
1. Provide Appropriate Input
2. Use Authentic Texts
3. Establish Context
4. Use Task-Based Activities
5. Encourage Collaboration
6. Adopt an Integrated Approach
7. Address Grammar and Vocabulary Deliberately
8. Facilitate Feedback and Self-Correction
Methodology Questions
1. What is the key advantage of the communicative language learning approach?
Research has shown that students learn more effectively through this approach as it provides authentic communication tasks for them to practise. The purpose of the English examinations is to assess the extent to which students have been equipped with receptive and productive skills in order to engage with the wider world, outside the home and school.
2. How can the task-based learning ensure that students learn proper grammar and expand their vocabulary?
In task-based learning, students are motivated to complete the tasks assigned and in the process, they will invariably have to learn to use accurate grammar and appropriate vocabulary. In learning how to compose an email, a message, a speech or an advertisement, the students practise the use of correct tenses, as well the choice of suitable words, and phrases to address the audience.
3. In what way does the project-based learning motivate students?
In project-based learning, students find themselves in authentic real life situations where they have to contribute to the production and presentation of a particular product, both as individuals, as well as a team member. In doing so, they get the chance to give of their best, and simultaneously learn from other students. It is a win-win situation in the learning environment. In producing a blog, a flyer, an exposition or a refutation, students will learn from both the iTutors and fellow students on the most effective ways to introduce, develop and conclude the different texts. Creativity is encouraged and co-operation is learnt.
4. Can I learn just by listening in and doing the written assignments without participating actively in the tutorials?
Yes, but you will learn much more and a lot faster when you take part. Also, it is tonnes more fun!
5. Can I just participate in tutorials and not submit written assignments?
Yes, but you cannot be sure that you know how to apply all the techniques you learn in the tutorials. It is through completing the written assignments that you have a record of your improvement.
Testimonial by former student Ms HM Tan (National Junior College) 
Q: "How did the Reading Assignments in your online General Paper course help you?"

A: "I felt that the Reading Assignments were great in the sense that it provides a synopsis of the articles, which helps me sieve through what was given. It helped to save a lot of time and helped to prioritise the importance of the reading articles. The recommended articles are very relevant.
Q: "Were the Writing Assignments given in the online English course useful in improving your thinking and writing skills?"

A: Oh, the system of essay organisation using Main Idea/Supporting Idea (MI/SI) method helped, definitely. Helped to identify the bigger picture. Sadly, I must say I didn't exactly understand the purpose initially which led to the misuse of it. We're taught something like that in college but the teachers never went further than to teach main point, substantiation followed by exemplification, so in a way the MI/SI method is more effective because it incorporates the prioritisation which many students, including myself, fail to learn.
The Essay Guide is like perfect! Puts my essay to shame. No kidding. It's very comprehensive and contains very good arguments."
Q: "Would you recommend this course to others attempting the General Paper examination?"

A: "Oh, most certainly! It's a really effective way to learn – time-saving, convenient and very personalised mentoring too."
Praise for Creative Writing StoryBook Series by Parent
Hi Rosalind,
My son, Haris, has enjoyed very much "The Trials & Trimphs of Piggledy" series. The books have honed his vocabulary skills and perfected his writing skill as well. He has done very well for his composition writing as a result. The BEST part of which is that he learns many new words without having to check up on the dictionary as the meanings of the difficult words have been explained in the footnotes. To understand the meaning of the vocabulary isn't sufficient, the Vocabulary & Sentence Making book of the series has helped him to put them into use.
Now, Haris has completed the series, he has continued to use the advanced series " The Pain & Pleasure of Pupperoni The Peewee Pup". Though the books are a bit costly, they are very COMPREHENSIVE and guarantee good results. My son has done consistently well since using your books. I wish to unselfishly share these books with parents who want to help their children to do well.
Rosalind, thanks for the great job!!
Regards,
Tina
Australian Testimonials
We are so pleased that we have had the chance to be coached by Dr Ros. Since my son started the lessons, he has consistently topped the school in the English examinations. The scholarship that my son receives to attend Sydney Grammar is a testament to the wonderful coaching and motivation provided by Dr Ros. I have been asked about my son's secret to success and I have been generous in recommending Dr Ros to many of my friends.
Phyllis, Sydney
I am very glad to inform you that we will continue to seek your support and guidance in English proficiency for our children. Following our discussion with you, we asked our children whether they would like to be coached by you. And without a doubt, by looking at the beautiful smiles on their faces, they were very happy with their first lesson with you yesterday. We are so pleased with this first impression and would like to continue with your teaching for our children's English proficiency in the future.
Annie, Sydney
Explore Our Student Centre
The 26 Best English Exam and Best Creative Writing Guides can be previewed at www.planetastar.com. The following titles are our latest best sellers.

Nurturing Intelligence
The Tantalising Tale of Timothy & Muffett
The Trials & Triumphs of Piggledy the Guinea Pig
The Pains & Pleasures of Pupperoni the Peewee Pup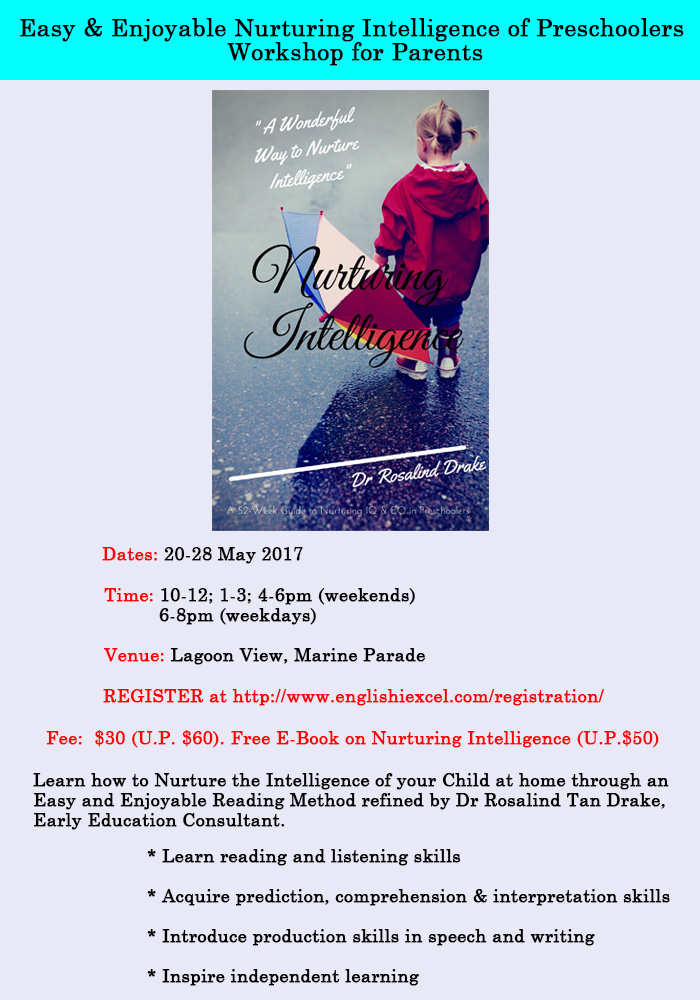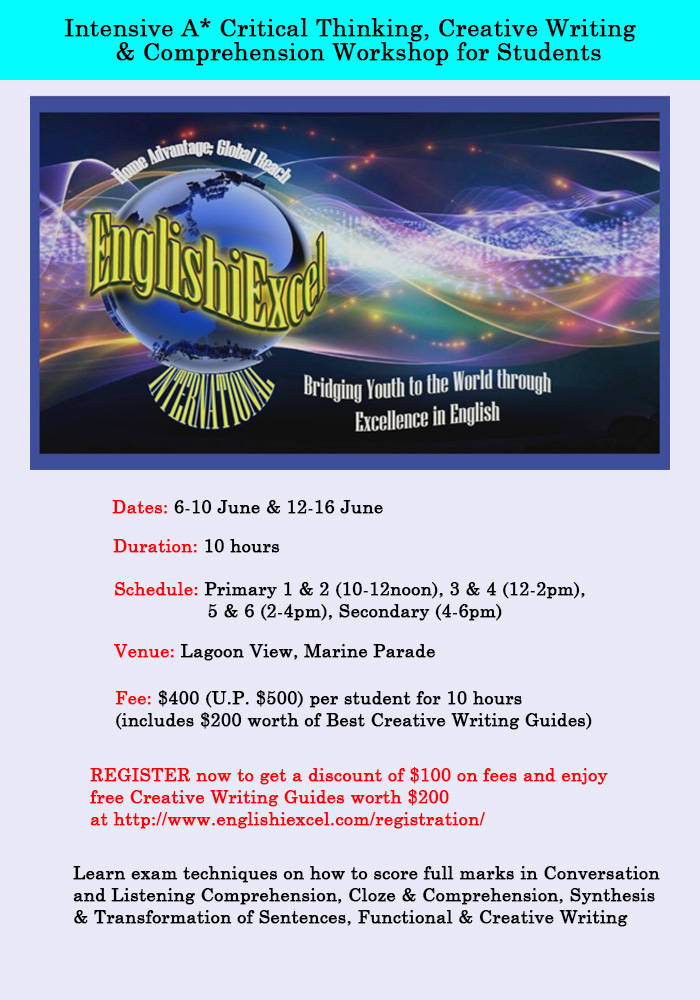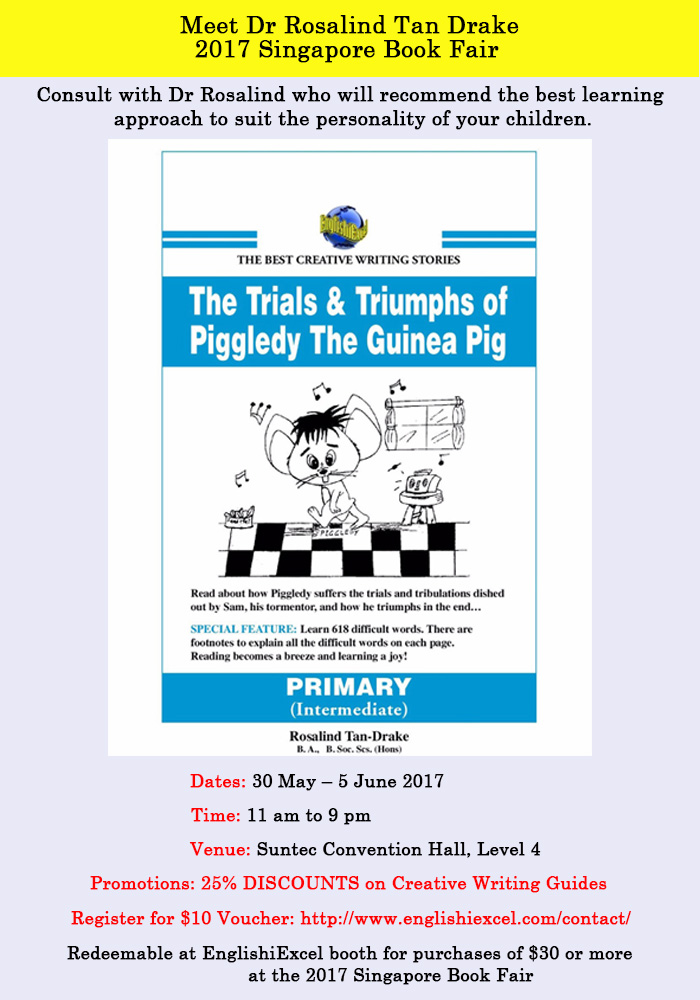 At the EnglishiExcel International Student Centre, we provide an interactive forum where students can submit questions on issues which are of interest to them. We invite other students to log in with their perspectives, and together we hope to enable each and everyone of the students to be able to develop their personal pathways to success and well-being. We also provide relevant information and advice on how students can achieve their goal of achieving proficiency in the English language.
Browse through the Courses we offer and please register for a Sample Lesson.
There are 4 levels of Proficiency for Primary, Secondary & Pre-University, IP & IB Students. They are: Foundation, Intermediate, Advanced and Master
The COMPLETE Course at the 4 levels consists of 7 Major Components:
iChat, iListen, iRead, iThink, iComprehend, iWrite, iBelieve
Please visit our website for more details of these 7 major components. We recommend that you enrol your children for the following modules after you have discussed with us and we have assessed the specific needs of your children. We are pleased to offer the following promotional rates for Primary school students.
Foundation
(F1) Foundation Complete (12-Week Module)***Par Excellence Promotion $299.00 Usual $720.00
(F2) Foundation Complete (8-Week Module)**Excellent Value Promotion $200.00 Usual $480.00
(F3) Foundation Complete (4-Week Module)*Great Value Promotion $120.00 Usual $240.00
Intermediate
(I1) Intermediate Complete (12-Week Module)***Par Excellence Promotion $320.00 Usual $900.00
(I2) Intermediate Complete (8-Week Module)**Excellent Value Promotion $220.00 Usual $600.00
(I3) Intermediate Complete (4-Week Module)*Great Value Promotion $150.00 Usual $300.00
Advanced
(A1) Advanced Complete (12-Week Module)***Par Excellence Promotion $390.00 Usual $1,350.00
(A2) Advanced Complete (8-week Module)**Excellent Value Promotion $280.00 Usual $900.00
(A3) Advanced Complete (4-week Module)*Great Value Promotion $220.00 Usual $450.00
Master Class
(M1) Master Class Complete (12-Week Module)***Par Excellence Promotion $480.00 Usual $1,800.00
(M2) Master Class Complete (8-week Module)**Excellent Value Promotion $360.00 Usual $1,200.00
(M3) Master Class Complete (4-week Module)**Great Value Promotion$290.00 Usual $600.00
Register for a Free Trial NOW!
We want students to learn, enjoy and benefit from our online interactive learning platform. Before you register, make sure you try out our sample lessons and contact us for more information so that you know how joining our international community of learning can benefit you. Registration is easy. Just log in your details, choose the modules that work best for you and wait for us to contact you.
REGISTRATION ›
Please browse and check out EnglishiExcel's unique offerings below:
Click to take FREE Diagnostic Tests to see how firm your foundation is:
Check out this EnglishiExcel's Video Lesson:
iChat Webinars: Click to see our webinar schedule and join us live
Click to to enjoy the IListen Module
ILISTEN/IREAD/ITHINK/ICOMPREHEND/IWRITE
Timothy and Muffet Chapter 1
Find Tuition/Enrichment Centres