HUMANITIES.COM.SG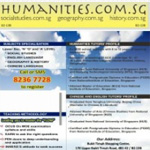 Dearest Parents and Students,
HUMANITIES.COM.SG offers premier tuition for Social Studies, History and Geography at Secondary School level.
All our tutors received their formal training at the National Institute of Education (NIE). With over 8 years of teaching, they are very experienced in developing students' competence and confidence in the different humanities subjects offered by the Ministry of Education (MOE).
Through intensive coaching and practice, students are taught how to understand and apply key content and concepts of the Humanities subjects. Using rigorous application of investigative and source-based skills in relevant case studies, our students are well-trained to answer different types of questions in their National Examination. The many stories posted at our websites is an testimony of our tutors' hard work and dedication. May you or your children come and learn, leap, laugh with us @ HUMANITIES.COM.SG. Cheers!  
Contact 8236 7728 now for more information today 🙂
Visit our websites:
www.humanities.com.sg
www.socialstudies.com.sg
www.geography.com.sg
www.history.com.sg