Making Sense Learning Centre
Making Sense Learning Centre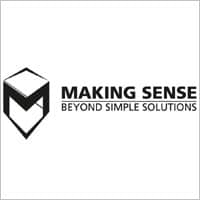 The nation's leading Chemistry tuition. At Making Sense, we aspire to change the notion that chemistry is a mundane subject that few will excel in. With the correct coaching and guidance, learning chemistry need not be a struggle.
Our founder Mr William Lin is one of the most sought-after Chemistry Tutors in Singapore, with exclusive features on Channel NewsAsia and The Straits Times. He is well-liked for his patience, clarity and ability to simplify complicated concepts. Over 500 students join Making Sense every year to be coached by the award-winning Super Tutor and he has successfully coached close to 5000 students to date.
Picking only the cream of the crop, Mr William has built a team of highly qualified and dedicated
tutors, helping both O and A level students transform their Chemistry grades. Many students came to them in desperation and a dislike towards Chemistry. Through engaging lessons and crystal-clear delivery, they make Chemistry an interesting subject for students. Many of their students graduated with Chemistry as their favourite subject.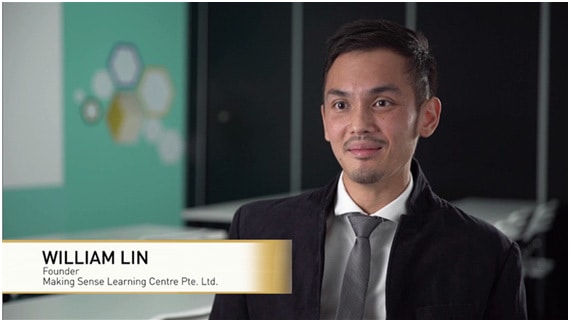 As featured in Channel News Asia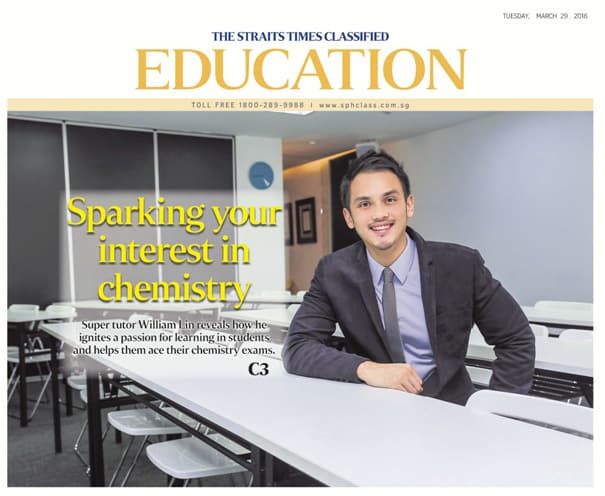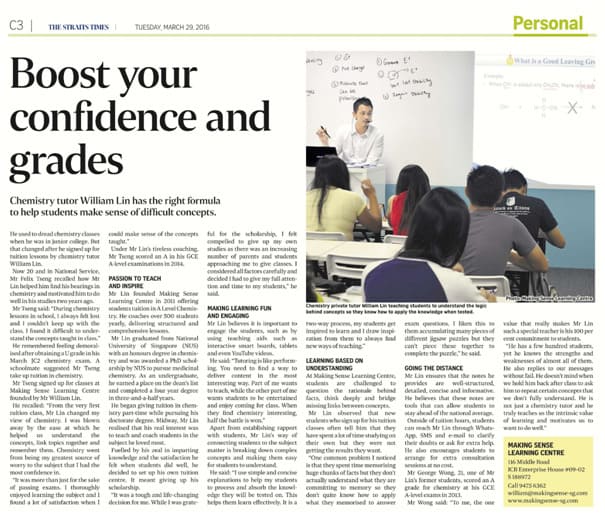 Statistics
5000 students to date
97% saw improvement in grades
90% achieved 'A' or 'B' for A-level
92% achieved at least 'B3' for O-level
Close to 100% satisfaction with our lesson materials and lesson delivery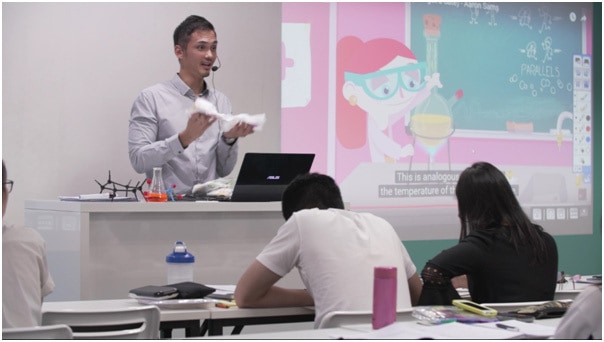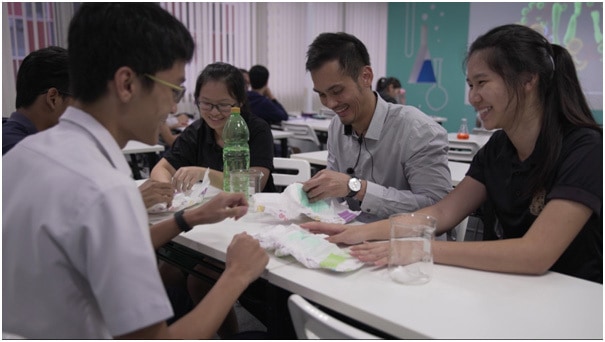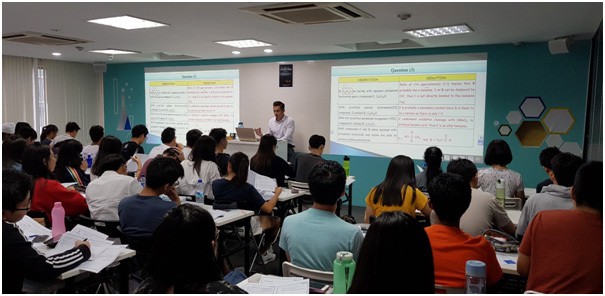 The Making Sense Experience
Crystal Clear Delivery
Be blown away by our tutors as they expertly link up all the intricate concepts in a way that simply make sense. Often, we go beyond the syllabus to give you a more complete understanding.
Top Quality Materials
Expect top-notch materials and comprehensive notes which are concise and well-structured. Tutorial questions have been carefully crafted to give students maximum exposure.
Complimentary 1-to-1 Coaching
Our students are welcome to seek extra consultations outside classroom hours. Feel free to contact our tutors through Whatsapp, SMS and email. We will make time for you.
Chemistry & Only Chemistry
We have a strong team of specialised tutors who channel all our efforts into the only subject that we do. Rest assured that you are getting the best from our tutors.
Media and Awards
Exclusive feature in a program "A Class Above" on Channel NewsAsia
Featured in The Straits Times as Chemistry Super Tutor
Voted as the best A & O-level Chemistry Tuition Centre in Singapore by Parents World
1. Feature on CNA
2. Reviews from students
Testimonials
"I first heard about Making Sense and William from my classmates who were all saying "William is godly". I wondered if they were just exaggerating? But after joining his class, I was like them, going around telling people that "William is really godly."

Algena Goh
Dunman High School

"The lessons are very clear, packed with loads of information and yet magically concise. After joining Making Sense, I could finally see the light in topics that I would never be able to relate to, on my own."

Odelia Ong
Meridian Junior College
Contact Details
Bugis Outlet
116 Middle Road
ICB Enterprise House #09-02
Singapore 188972
MRT: Bugis / Bras Basah
Phone: 6908 2980 / 9475 6362
Admin matters (For current student): 9832 6673 – Whatsapp
Email: info@makingsense-sg.com
Bukit Timah Outlet (New)
144 Upper Bukit Timah Road
Beauty World Centre #03-12
Singapore 588177
MRT: Beauty World
Find Tuition/Enrichment Centres