Maths Accelerator Centre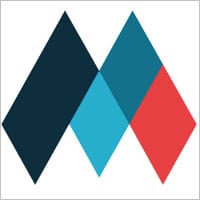 Maths Accelerator Centre is a specialist tuition centre that is focused on primary mathematics. Our expertise lies in breaking down complex non-routine problem sums into effective and easy-to-follow strategies and ensuring each student is able to maximise their potential.
The S.C.O.R.E. System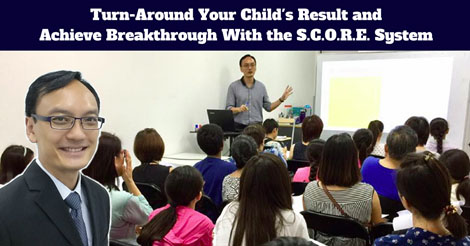 Using our unique S.C.O.R.E. System, we have helped hundreds of students to turn-around their results and achieve breakthrough in their exams.
The S.C.O.R.E. System is a unique learning system that is designed by our chief-trainer, Mr Chris Siew who is an ex-HOD with 14 years teaching experience. He combined the "Teaching Models" used by top Math Educators and the "Techniques" used by the top 5% of students during exam into a powerful system that has transformed hundreds of borderline students into consistent B and A scorers.
Turnaround Success Story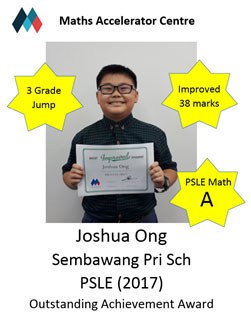 Joshua joined us in January 2017. His parents were looking for help as he dipped below 50 for the first time during his P5 SA2 last year.
With Joshua taking PSLE this year, they did not want to leave anything to chance. He had attended a number of trial lessons with his parents, but his parents were impressed with our structured approach in helping students developed critical and creative thinking skills in solving problem sums. 
Joshua achieved his first breakthrough during his CA1. He made 18 marks improvement and a 2 grade jump. That was only his first breakthrough.
In the next few months, he continued to scale new heights and score an A for his PSLE Math.
His parents were very proud of his progress. They were glad they made the right choice, despite spending time travelling every week from Sembawang to Marine Parade.
Free Consultation
If your child is hovering between the 40-60 range in Maths, and you are looking for a breakthrough, we would like to invite you to a free consultation. During this session, we will share with you
✅ The 3 main reasons why your child is not doing well in the Paper 2 (Problem Sums) section; why he keeps making the same mistakes, and how to easily stop these mistakes from repeating.
(Students and parents who came for our previous sessions were surprised to find out that they've been using the wrong techniques all this while.)
✅ Gain an in-depth understanding of our 'SCORE' framework that has turned around the results of hundreds of PSLE Math students consistently.
(Based on the research of a Harvard professor, this answering method will provide you with the step-by-step instructions on how your child can master the 11 Math heuristics needed to score in PSLE.
We've even helped a student, who was struggling with her Maths since she entered P5, to score a distinction for her PSLE by learning and applying our 'SCORE' framework. Even her classmates were shocked and wanted to know her formula for success.)
✅ Learn 3 powerful strategies to answer the trickiest problem sums in Paper 2 and potentially add 15% more marks in this section. We'll demonstrate this systematically, so your child can apply the strategies instantly.
Click on the link below to secure your session:
Find Tuition/Enrichment Centres