NOOCC EYE CENTRE : VISION CARE HUB
NOOCC EYE CENTRE : VISION CARE HUB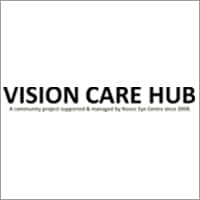 With the dubious distinction of having one of the highest rates of myopia in the world, Singapore seriously needs to improve the eye health of its people.  We must not be resigned to this and do nothing.
The Vision Care Hub is a community project initiative that finds its home at Noocc Eye Centre. 
It was conceived to provide members of the public, access to quality education and awareness of eye conditions and to promote good vision care and visual health management amongst the community.
This community project initiative was launched by Minister Lim Swee Say on 15 December 2006.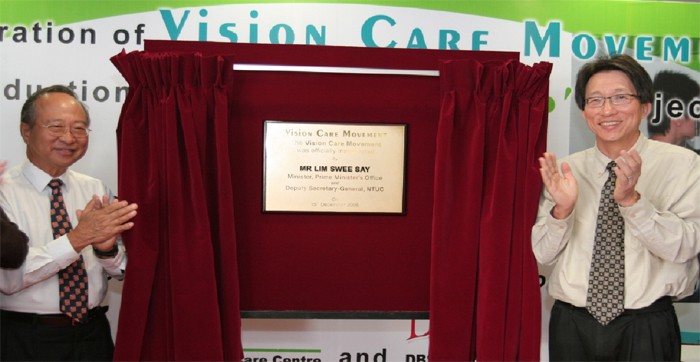 We took more than 16 months for this idea to conceptualise and materialize before it was officially declared open on 30 April 2008 by Mr Hawazi Daipi, Senior Parliamentary Secretary, Ministry of Manpower and Health.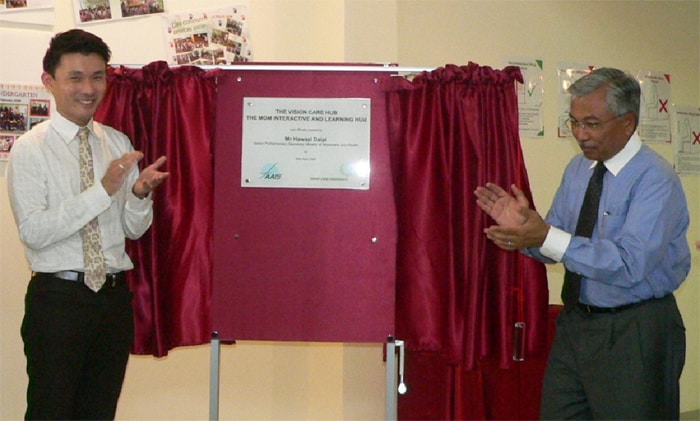 Vision Care Hub was set-up to educate the general community on the importance of good eye-care; the effects on one's vision which may be influenced by; developmental issues; medical conditions; as well as the aging process; how to prevent and manage eye health early so that one's eye condition does not get worse over time and it may result in the loss of vision. 
This hub is an interactive educational community learning hub for all ages. 
It showcases the impact of technology, lifestyle, environment and physiology on eye health.  Hub visitors will be able to learn about the basics of the eye, its journey and the different environmental factors that might influence vision.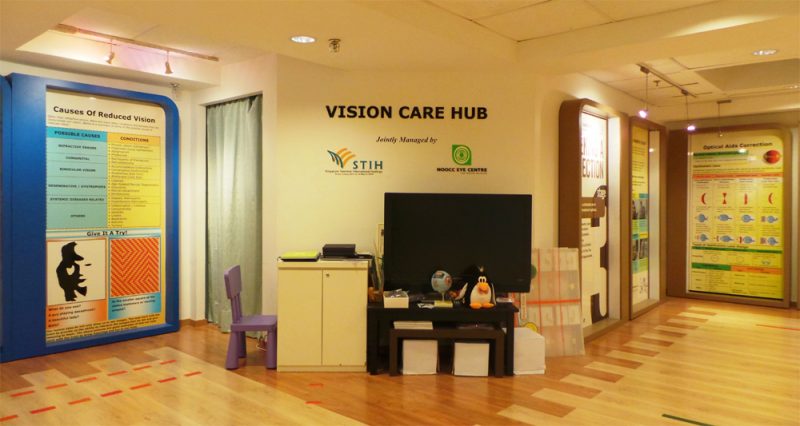 The Vision Care Hub is supported and managed by Noocc Eye Centre since 2008.
It is a community learning hub which strives to educate people from all walks of life on eye health, eye care habits, the journey of our eyes including the possible environmental factors that may impact on eye and vision.
Our educational hub is a learning journey that anybody can benefit from – preschool kids, students, working adults and senior citizens.
We conduct interactive learning journey which enhance the learning of the eye and vision in relation to environmental factors and visual habits to the general community.
We provide Prepare & Prevent wellness programs that goes beyond the general basic eye care education that provide basic and essential knowledge on cultivating good eye care habits. 
Our educational field trip programs are extended to:
Educational Institutionsg. for Preschool students, Primary School students
Parents & Grandparents of young children
Teachers & Principals of Preschool & Student Care Centres, Primary Schools..
Senior citizens from community clubs.
Employees & family members of companies, unions, organizations & associations.


The Vision Care Hub programs also focus on how technology can be harnessed for productive enjoyment in a responsible way that is visually friendly, without compromising visual health.
We cater to all ages and all needs, educating the community on proper eye care.
Location: Noocc Eye Centre, 190 Changi Road, MDIS Building, #B1-01, Singapore 419974
Tel: +65 6471 1771
Email: patientcare@noocc.com
Website: www.noocc.com
Note: Prior booking for field trip program is necessary.
Opening Hours: 9am to 6pm Monday to Saturday; Closed on Sun and PH

'PREPARE & PREVENT' Wellness Field Trip Programs
 1) PRESCHOOL FIELD TRIP SERIES 
This is a two-part series catered to preschool children from N2 to K2.

In Part 1, your child will learn basic knowledge about their eyes, its function and eye care habits.

Part 2 takes them deeper, learning about the necessity of two eyes, eye protection and more. The learning is not complete without the games and demonstrations crafted for them to experience this knowledge come to life.

Students can attend each part as a standalone or as a series, though basic eye knowledge is highly recommended before attending Part 2.  Through this interactive 2-hour guided learning experience, they will be undoubtedly enlightened on how their eyes work and empowered to take good care of their eyes for the future.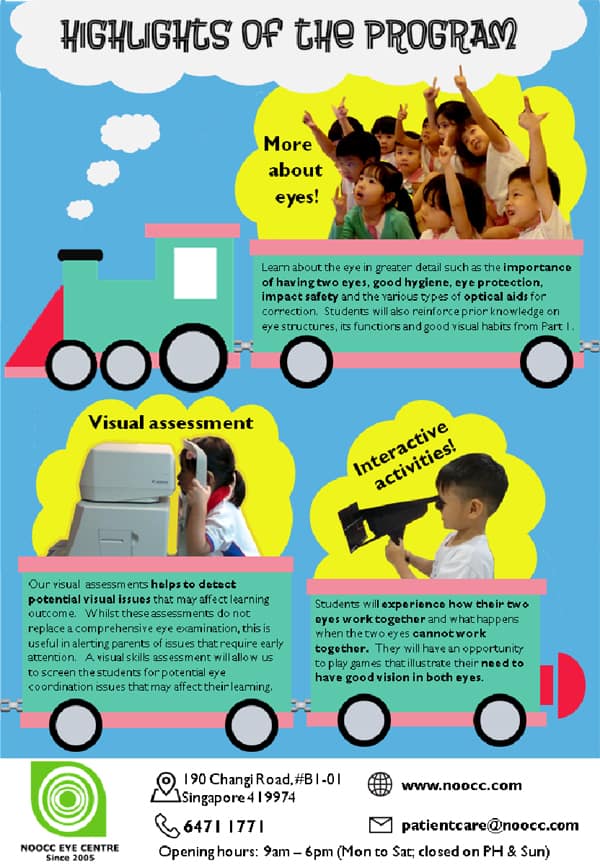 'PREPARE & PREVENT' Wellness Field Trip Programs
 2) Primary Level Field Trip Experience 
Primary level students enjoy a different experience in this exploration of their own eyes.
The risk of myopia is high amongst Singaporean children, so it is important for them to understand more about their eyes and hence claim ownership of the care of their eyes.
There are two levels of the programme – basic and

intermediate

. Both will give students a hands-on learning experience of learning about the various parts and functions of the eye and good visual habits. How does it feel like to be myopic? How do blind people read? These are questions that the students will be able to explore in this 2.5 hours programme.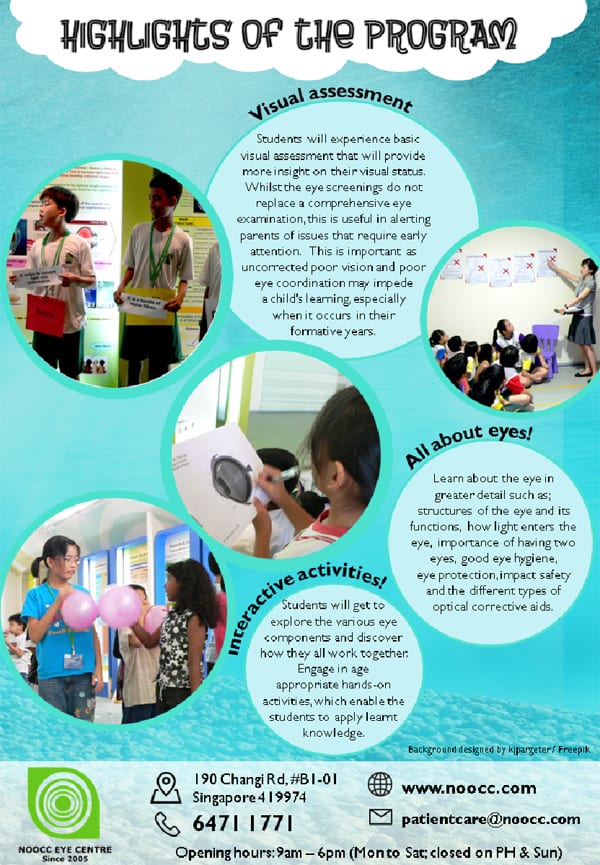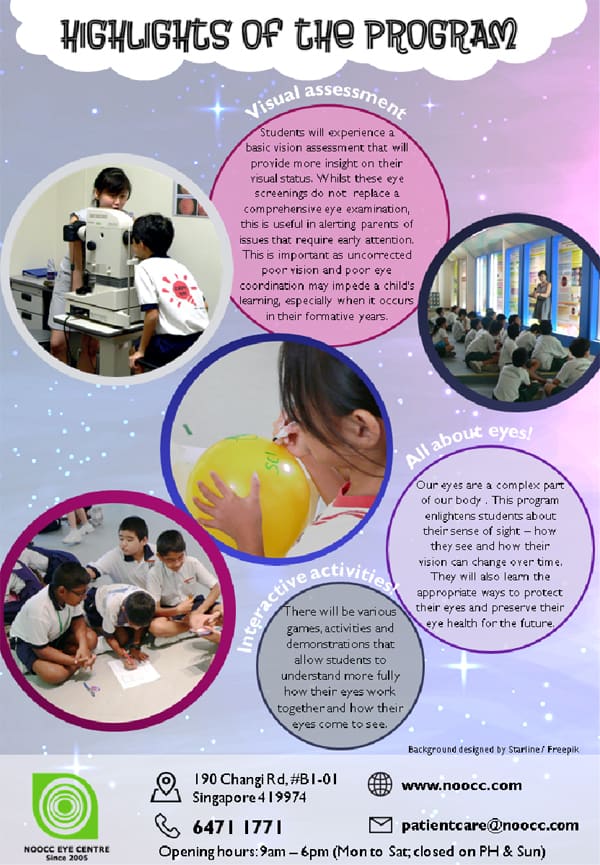 3) Parents' talk on Vision Development for Children 
We run talks for parents concurrently with the preschooland primary level programmes.
This will allow you to gain a greater understanding of how your child's vision will develop over the years and the potential obstacles to normal vision development. The talk will also enlighten you on the various aspects of the child's visual system that must be examined to ensure holistic development.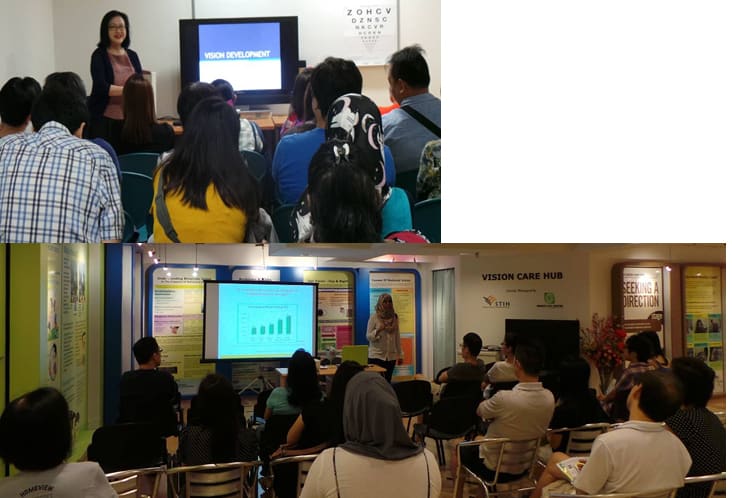 4) Corporate programmes 
We also conduct awareness talks for those in corporate work – be it desk-bound or industrial work.
Each occupation comes with different visual demands so it is important to ensure your visual system is capable of handling the visual load that comes with your work.
For example the considerations for an office worker who is using the computer for the majority of the work day will be quite different to that of someone who works outdoors on site. Hence it is important for these various groups to understand how they can ensure a robust visual system to handle the many tasks.


Please contact Noocc Eye Centre for more information; to book an appointment
for an eye check; for optical or contact lens correction; or to book a date for our educational field trip programs :-
Opening Hours: 9am to 6pm, Monday to Saturday except Sunday & Public Holiday.
Tel:  +65 6471 1771     Email:  patientcare@noocc.com            Website: www.noocc.com
Address:  190 Changi Road, #B1-01 Mdis Building, near Eunos Mrt.  S'pore 419974
Noocc Eye Centre : Contact Information & Location Map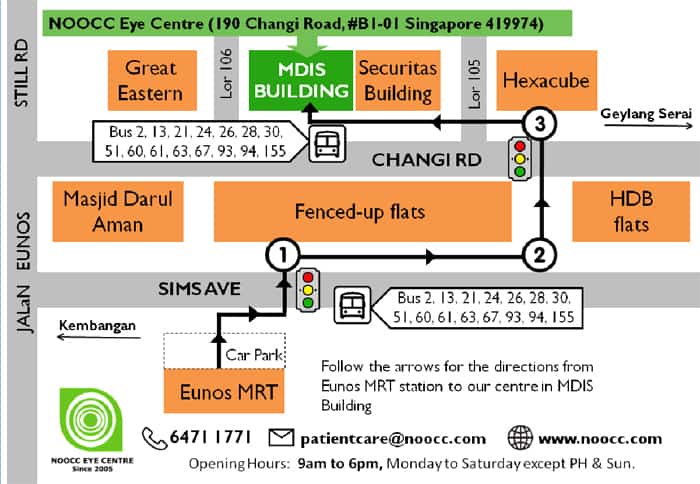 Find Tuition/Enrichment Centres