PERFECT SOLUTION EDUCATION GROUP
PERFECT SOLUTION EDUCATION GROUP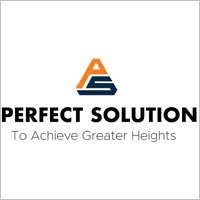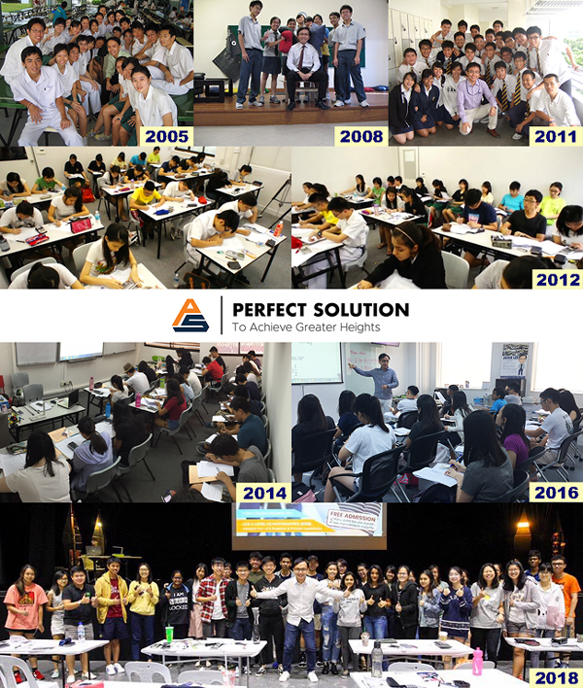 Perfect Solution Education Group, formerly known as Jackie Lee Learning Center, specializes in JC Mathematics at H2 level. It was founded by Mr Jackie Lee who is an icon in this field of knowledge and well-liked by many students. Mr Lee is described as a patient, caring, knowledgeable and passionate teacher. His teaching material is designed to help students develop strong conceptual understanding and equip them with effective strategies and methods that can be easily applied.
Since 2007, GCE A-level introduced graphic calculator and a significant portion of exam questions are now set to test the use of this device, known as GC. Regarded as the GC guru, Mr Lee published two GC guidebooks suitable to all junior colleges in Singapore. He has put in tremendous effort to ensure the students capable of using their GCs in the most effective and efficient ways.
Armed with PGDE (Postgraduate Diploma in Education) teaching qualification from NIE (National Institute of Education, Singapore) and formerly teaching in renowned junior colleges and IB (International Baccalaureate) school in Singapore, Mr Lee knows exactly how the exam papers are set and where the students lose their marks. Besides his stint in school teachings, Mr Lee has also accumulated more than 15 years' private tuition experience. He has coached a wide spectrum of students, from extremely weak and math-loathing ones to those who are very self-driven and target nothing less than A.
With such an immense depth of teaching experience, Mr Lee has developed a secret recipe that is suitable to all students with different levels of proficiency in mathematics. In his teaching philosophy, there is no shortcut way of success. However there exists an expressway of success. Get aboard his high-speed vehicle, fasten your seat belt and Mr Lee will bring you to your desired destination with the minimum time and effort you need to spend.
Profile of Mr Jackie Lee
Qualification:
* Bachelor of Electrical Engineering (NUS)
* Master of Science (NUS)
* Postgraduate Diploma in Education (NIE)
Accolade:
* Ministry Of Education (Pre-University) Scholarship
* Economic Development Board (Master Degree) Scholarship
School Teaching (Mathematics) Experience, arranged in alphabetical order:
* Anderson Junior College
* Anglo-Chinese School (Independent)
* Nan Hua High School
* Raffles Junior College
---
** Urgent Message to JC2 students taking H2 Mathematics (9758) **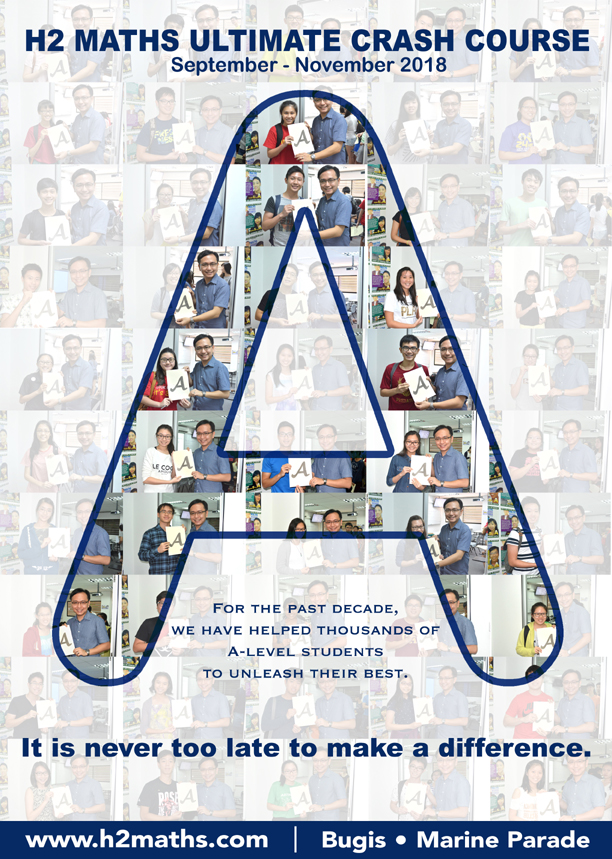 With less than two months to go before the A-Level, every day counts and your precious time should be used in the most meaningful and efficient way. At Perfect Solution, we have an excellent track-record to help students make a strong comeback in this final lap of preparation.
For the past decade, we have accumulated lots of high-equality exam questions and refined the selection year after year. Students can rest assured that they are exposed to the most powerful pool of questions for which outsiders have no direct access these days.
We have packed our ultimate question bank, comprising at least 300 best-of-the-best questions, into 6 lessons. Each lesson lasts for 2.5 hours. Some questions are selected for classroom discussion while the rest are intended for home practice where full solution are provided. In the event of insufficient time attempting all the questions, simply reading the question and solution side-by-side as examples could start gaining benefits in the shortest possible time.
To boost the performance further, each student is given one-to-one classroom consultation time slots to resolve any outstanding issues at the individual level. WhatsApp consultation is also available to fix any burning queries while self-studying at home or library. Mock exam papers are also given for improving on time management. All the above extra services are provided within the package at no extra cost.
Sign up now and let yourself achieve greater heights in the A-Level.
Braddell Branch
381 Toa Payoh Lorong 1 (OnePeople.sg), Singapore 319758
Marine Parade Branch
81 Marine Parade Central #01-644 (2nd floor), Singapore 440081
Jurong East Branch
133, Jurong Gateway Road, Singapore 600134
Email: [email protected]
Facebook: https://www.facebook.com/JackieLeeLearningCenter
SMS / WhatsApp: 90705626