Physics.com.sg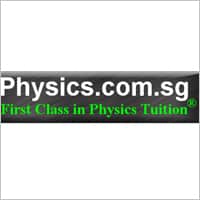 Phang Yu Hon's "First Class in Physics Tuition®" is not just about his First-Class degree, which is more common in the research than teaching profession.
It's "Class" in every sense of the word.

Phang Yu Hon is the only Physics Tutor in Sunday Times' Five "Most Sought-After Super Tutors" (Sunday Times Jun 15, 2008).
Since then, many teachers quit to become "Super Tutors", but Mr. Phang remains the real "Super Tutor in Demand" (Straits Times May 23, 2016).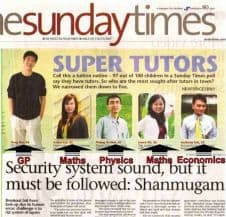 The Real Super Tutors
The Sunday Times June 15, 2008
GP Tutor Tong Yee; Maths Tutor Celine Loi; Physics Tutor Phang Yu Hon; Maths Tutor Laura Oh; Economics Tutor Anthony Fok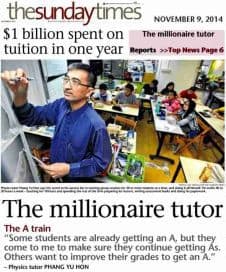 The Millionaire Tutor
The Sunday Times November 9, 2014
Phang Yu Hon is still the only "Millionaire Tutor"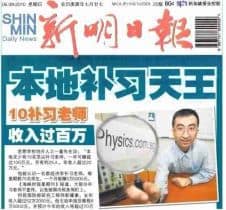 本地补习天王
Shin Min Daily News September 5, 2010
Phang Yu Hon is "Tutor King"
---
Testimonials carry only as much weight as the people who write them.
Mr. Phang is greatly honoured to be the preferred tutor of the brightest students in Singapore, who are experts in the subject physics. Their testimonials are collated in the EXPERT OPINIONS' SECTION.
Mr. Phang also has many students who appreciate the positive influence of these brilliant students (近朱者赤). Their testimonials are chronologised in the CHRONOLOGICAL TESTIMONIALS SECTION.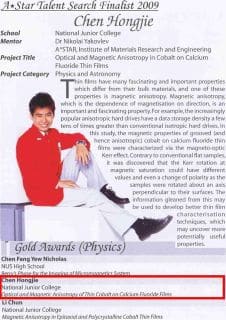 "Surely, there is no better place to learn physics than in Mr. Phang's class, where questions are challenging and his explanations of them even more enlightening … "
Chen Hongjie, National Junior College, 2009
(The Lee Kuan Yew Mathematics and Science Award Winner 2010)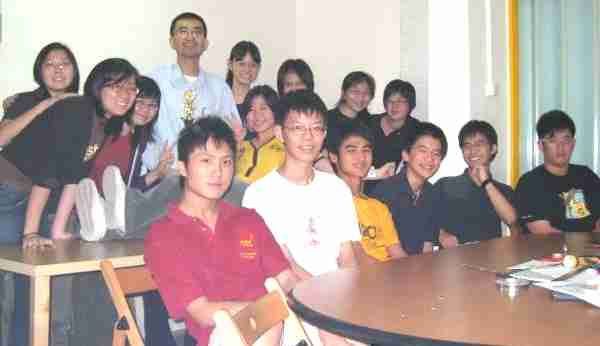 Kang Zi Yang (seated 2nd from left) & Chen Hongjie (seated 2nd from right)
Super Students
Chen Hongjie met Kang Zi Yang again 3 years later at the LKY Maths & Science Award presentation 2010, being respectively among Singapore's top 10 / 15 students in the Pre-University / Secondary Section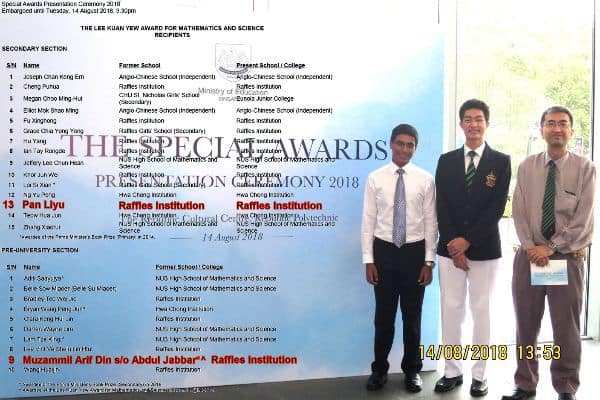 Lee Kuan Yew Award for Mathematics & Science 2018
From left: Muzammil Arif, Pan Liyu, Mr. Phang
Mr. Phang's bonus for having first-class physics tuition students is attending glam ceremonies in his personal private capacity
Find Tuition/Enrichment Centres