Wordsmiths Learning Centre
Wordsmiths Learning Centre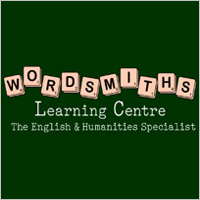 Wordsmiths Learning Centre specialises in the teaching of the English Language and Humanities (Social Studies, History, Geography, Literature) to students preparing for their N-Levels, O-levels and Integrated Program. Our in-house learning curriculum is specially prepared by our team of specialist teachers and is closely aligned with the Ministry of Education's (MOE) syllabus.  While classes are conducted in a group basis for effective learning, one-to-one coaching is also available upon request.
Our English Language and Humanities curriculum are built upon MOE's latest syllabus and learning requirements, while covering the topics in greater detail. Students are guided step-by-step through in-depth and individual attention that is not achievable in a large classroom environment.
All our programs utilises a wide variety of resources, up-to-date practice materials, audio and visual presentation to pique students' interest in learning and to provide them a competitive advantage.  Each term ends with a consultation with the teachers to keep track of students' learning progress. 
Student Testimonials:
"Throughout the four terms, I learnt important SBQ skills and have been exposed to a myriad of SBQ sources which has helped me greatly in the O-level examinations. I have fine-tuned my comprehension skills, learnt the correct writing structures and have sufficient practices for Situational and Essay Writing."                             
 – Justin Kee, Sec 4 (2016) Victoria Secondary School)
"Thanks Wordsmiths for coaching and teaching me throughout the year for English, History and Social Studies! Your advice, consultation and curriculum have helped me tremendously. I scored A1 for both History and English, and A2 for Combined Humanities (Social Studies and Geography). My results would not have been possible without your help!"
– David Lim, Sec 4 (2016) Tg. Katong Secondary School)
Find Tuition/Enrichment Centres