Woodlands Phase 2A Projections
Woodlands Phase 2A Projections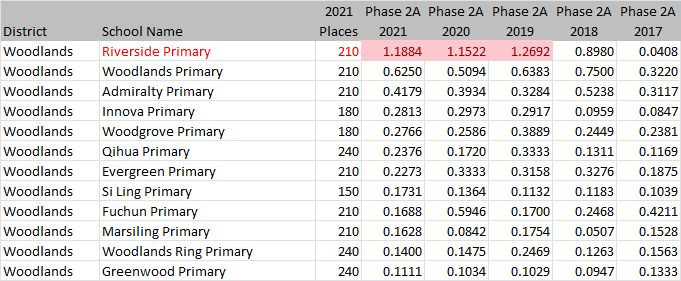 We now look at how the 12 primary schools in Woodlands will perform in this year's upcoming Phase 2A, using the parameters below:
We added the application rates for Phase 2A(1) + Phase 2A(2) simulating Phase 2A.
This is the number of people that applied for the phases.
We subtract 20 places from Phase 2A.
We then divided the application rate by the resulting number of places.
ie. intensity = application rate/number of places
We repeated the same process for the last 5 years.
Finally, we sort the results according to the school with the highest application rate in 2021.
Amongst all the schools in our simulation, Riverside Primary has a slight risk of balloting in Phase 2A this year.  Launched in 2012, it has the lowest take-up rate at 4% in 2017, but started picking up steam in 2018 and is now the hottest school in this area.  It's cohort size of 210 is average.
For the rest of the schools in Woodlands, we are not expecting any to require balloting in Phase 2A.
The biggest take up rate is with Woodlands Primary, registering 75% in 2018 but then falling down to 63% last year in 2021.  Innova Primary actually has a very low take-up rate in 2017, but it clawed to a high of 30% in 2020.  Greenwood Primary is still lounging at around 10% take-up rate and it doesn't appear to be moving in any direction.
Find Tuition/Enrichment Centres